The William Henry Harrison dollar coin is a 2009 commemorative coin meant to honor the 9th President of the United States. Harrison only served for one month in 1841 before he died, but he's a major part of American history.
Like most other commemorative coins, the William Henry Harrison dollar is worth slightly more than its face value. Most of these coins were kept in relatively good condition and are easily sold for $3.
This doesn't mean that there aren't instances when the coin has sold for more. Rare errors and coins in superb condition almost always bring in a premium price, and we explain why below.
How Much is a William Henry Harrison Dollar Coin Worth?
While the face value of a William Henry Harrison coin is $1, these are collectible coins that often sell for more as long as they're kept in good condition. Those less than a Mint State grade are only worth $1, but they jump to $3 around MS60 and climb steeply from there.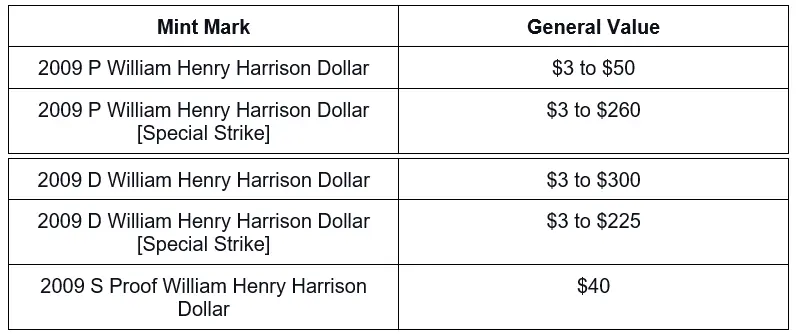 Most will look at the mintage of a coin first to determine how rare it might be. While these Presidential coins have similar mintage, some carry different values.
2009 P William Henry Harrison Dollar Coin Value
Philadelphia minted a lesser amount of William Henry Harrison dollar coins than Denver, putting 43,260,000 into circulation. Despite this, the Philadelphia coins have a lower general value (but higher auction records).
PCGS has four different listings for the 2009 P William Henry Harrison dollar coin. On top of having a satin finish Special Strike, the coins are also distinguished by the position of their edge lettering.
The auction records include:
A MS68 Position A regular strike selling as part of a $1,840 lot
A MS67 Position B regular strike selling for $69 on eBay in 2022
An SP67 Position A satin finish selling for $10
An SP69 Position B satin finish selling for $260 in 2021
Most of these coins don't spike in value until they hit a number grade around 67 or even 69.
2009 D William Henry Harrison Dollar Coin Value
The Denver mint struck 55,160,000 William Henry Harrison dollar coins in 2009, making them the majority producer. Like those from the Philadelphia mint, most are only worth about $3 unless you look at auction records or near-perfect coins.
For example, the regular strike auction records involve a Position A MS69 that sold for $150 on eBay, while the Position B auction holder of the same grade only sold for $7.
If you look at the records for the Special Strike William Henry Harrison from the Denver mint, you see that they sold for $20 (Position A) and $225 (Position B).
2009 S Proof William Henry Harrison Dollar Coin Value
The 2009 S Harrison proof is considered one of the most valuable of the Presidential dollar coins with only 2,809,452 minted in San Francisco.
The value for proof coins is more stable than that of regular strike coins. While S mark William Henry Harrison dollar coins have clearer details than those from the other mints, they're more likely to be found in pristine condition and therefore less rare.
Most 2009 S proof William Henry Harrison dollar coins sell for about $40. The current auction holder for this San Francisco coin is a PR68 DCAM that sold for $125 in 2021.
What Affects the Value of a William Henry Harrison Dollar Coin
While condition is the main influence on the value of the commemorative coin, collectors are always looking at small details to make sure they have the most complete collection.
Something as simple as the position of the edge lettering, the coin's mint mark, or a rare error can have a major impact on the ultimate value of your William Henry Harrison Dollar.
Coin Condition
The biggest disqualifier in the value of any coin is the condition that it's in. For collectible coins like the William Henry Harrison dollar, it should be as close to perfect as possible. Any major marks, lost details, or lost luster will easily keep the coin at face value.
It can be difficult to discern the minute details that separate the higher grade. We recommend reaching out to a professional or using a tool like Coin Value Checker to determine the exact condition and value of your coin.
Coin Mintage
As you can see, the William Henry Harrison dollar was made at three different mints. While Philadelphia and Denver coins hold the same general value, the San Francisco Mint produced only proof coins that are usually worth slightly more.
This directly relates to the smaller number of proof coins produced. An exception is the rarity of regular-strike coins in pristine condition; those of MS69 or higher attract plenty of attention at auction.
Rare Errors
When we talk about errors that increase the value of coins, we're referring to those that occur during production. These Mint errors usually affect a small number of coins and happen before they even enter circulation.
Rare errors should be confirmed before assigning any premium to the coin; some unscrupulous dealers try to pass off post-mint damage as an error, ignoring the fact that it actually devalues the coins.
Common Errors on William Henry Harrison Dollar Coins
Most valuable errors on the William Henry Harrison dollar have affected a number of presidential coins. Be wary of any errors that you haven't heard of before.
The most common include:
The position of the edge lettering
Missing edge lettering
An edge-lettered coin with a blank planchet
Double edge lettering
As you can see, the edge-lettering seemed to be a major issue for these commemorative coins. This is because the U.S. Mint used a two-step process that struck the front and back of the coins before dropping them into a bin that would then feed them into the edge-infusing machine.
While this worked to get the coins stamped, it left plenty of room for error and variations that collectors would eventually soak up.
Position A vs. Position B Edge Lettering
Because the Presidential Dollar coins were dropped into a bin then blindly fed into the edge-inscribing machine, the edge lettering ended up having two different orientations. Professional grading services use this as a way to distinguish certain coins, and many collectors aim to have both positions in their collections.
Position A refers to edge lettering that appears upside down if you have William Henry Harrison's portrait upright. Position B is the opposite, with normal inscription when Harrison's portrait is upside down.
The only time upside-down lettering would be an error is if you find it on a 2009 S Proof William Henry Harrison dollar. The proof coins were struck with a three-piece collar that applied the edge lettering at the same time as the front and back designs; they shouldn't have any upside-down features.
Missing Edge Lettering
A William Henry Harrison dollar coin is supposed to have inscriptions on its edge (incused inscriptions). They should read:
2009 (the year the coin was minted)
E PLURIBUS UNUM
The coin's mint mark ("P", "D", or "S")
Coins without these inscriptions never went through the second part of the minting process, and you may be able to fetch a premium on them. This was more common on the first coins in the series, like the George Washington dollar, but it's not unheard of in other runs.
PCGS recognizes the Special Strike William Henry Harrison dollar coins with missing edge lettering in their own category (because it's impossible to determine their mintage). The auction record sits at $227, but these coins are worth anywhere from $22 to $400.
Double Edge Lettering
Alternatively, you may find one with double edge lettering. These coins went through the second minting process two times, and they will have overlapping edge inscriptions.
Edge Lettered With a Blank Planchet
Another error that occurred with the dollar coin series is coins that were not struck on the front and back, only the edge.
This is arguably the most rare error variety, and there are no known examples for this coin to date. Because there were four Presidential Dollar coins minted every year, it would be nearly impossible to determine which one you're dealing with.
Checking the Value of Your William Henry Harrison Dollar Coin
Because most of these coins are kept in great condition, it can be difficult to see the differences between an MS66 worth about $3 and an MS67 that jumps up to $45.
It's worth it to enlist professional help or tools like Coin Value Checker to get the most accurate assessment of your William Henry Harrison dollar coin.