Going somewhere during the weekend? Not a problem! With well-developed flight connections, we are able to encounter really long distances and move rapidly from one place to another. I don't want to encourage you to go from the UK to South Africa and see the airport only. I would like to show you how to plan your weekend journey going to "near" places. Writing near I mean the destinations, that lie up to 3 hours flight from your place of living including long journeys by bus also. I am pretty sure, that after this article you will be able to plan your weekend trip as quickly as you can read this text.
Pros and cons of weekend trips by plane
When you take advantage of traveling by plane you must bear in mind the pros and cons of your choice:
+
The time of your journey is extremely reduced,
The price of your flight can be very low, sometimes even lower than a bus & train ticket, (especially during the low season)
You can see the World from a different perspective (flightseeing) when you sit close to the window
Traveling by plane is the safest kind of transport in the world
–
Sometimes your flight schedules cannot match with the weekend timeframe (e.g. one way on Saturday at 10 am and return on Sunday at 8 am)
The flight may be not nice when you feel uncomfortable  (turbulences, etc.).
You cannot take a thing that you want (hang luggage policy) choosing the cheapest option of flight.
I personally like to fly, although I know people, who don't. I commensurate them then because the flight is going to be a basic transport soon.
Quick planning the weekend trip
I am giving you advice for quickly planning the weekend trip on my examples. Recently, in December last year, I went from the UK to Ireland by plane. I will refer to my weekend bus trips too. Sometimes, when you are going far by bus, for instance to a different country on a weekend trip you can experience the same situation as with the flight schedule. The best example is the journey from London to e.g Amsterdam by the Megabus coach.
Time frames of your trip vs. accommodation.
At least from my personal point of view, the weekend starts at the moment of the end of the shift on Friday and finishes at the time of beginning the shift on Monday. This is around 63 hours of free time when you can enjoy traveling. Maybe you will say, that I am ridiculous, but to be honest, I can function normally after one night without sleep. There is another matter, that should decide about the time of your trip, namely the accommodation.
Do I really need 2 nights in Dublin? Everyone should consider it, when based on flight connection frequency, the period of the year  (day length), weather, and other random factors. Sometimes we can make a far better deal flying on Saturday morning rather than Friday night. Even some flights are cheaper on Saturday. Seeing this issue from the opposite side usually you cannot take the morning plane on your return journey unless you start at least at 10 am on Monday. For destinations, with a small frequency of flights during the weekend usually, the flight schedule will decide on the time frame of your journey. When you travel by bus or train, if you don't mind your journey definitely should start on Friday evening and finish on Sunday night or Monday morning when possible. In this case, you will spend 2 whole nights on the bus and another 1 night in the hotel. In the worst-case scenario, you won't sleep for 2 nights, which could be quite exhausting. Deciding on a journey like this you need to know your organism well and be sure that you will enjoy this trip anyway.
     2. Budget & Time
     Many flight options are to be found on your route map. Many deals can be offered, however, most of them refer to city breaks longer than a typical weekend. You need to calculate which offer is more profitable for you. It may depend on the season, level of attraction, etc. For instance, most flight deals are offered (at least by Ryanair) in November but you need to decide is it worth. Where is the good weather in Europe in November? Should I make my trip despite the weather conditions? Time is also pivotal in planning the trip. I am not a person, who enjoys slow tourism and always has something planned to visit. In my opinion, there is no place for slow tourism during the weekend trip. Especially when you are traveling quite far it is good to do something nice and visit some places, when you are in another country in this short time. Possibly you can have a different opinion. You need also to take into account the time of your travel and consider: should I really go to Madrid for a weekend only? Or maybe should I save some holidays and go there for a longer time, seeing also something extra outside the city.
3. "Top 10.."
The quickest way to find some interesting spots in your destination is by typing the "Top 10…." In Google search engine. Depends what you want to find you will have a choice of the following issues suggested by Google (Pic. 1).
You can also use TripAdvisor or download proper tourist guide apps for your destination. There are a lot of options, that help you get around in the destination area, however, further action will be required to make a plan for the trip, set the most convenient route, and manage the costs. When you are struggling with the trip route always the navigation will be helpful. I use Maps.me navigation (Pic. 4), which is free. If you have a bit more time you can make your route using Google Maps (Pic. 2). In My Google Maps (Pic. 3) application, you will mark all places, that you would like to see and connect them with the most convenient route. My Google Maps is available also for Android, so you will get your sightseeing route. You have to download it and run it offline.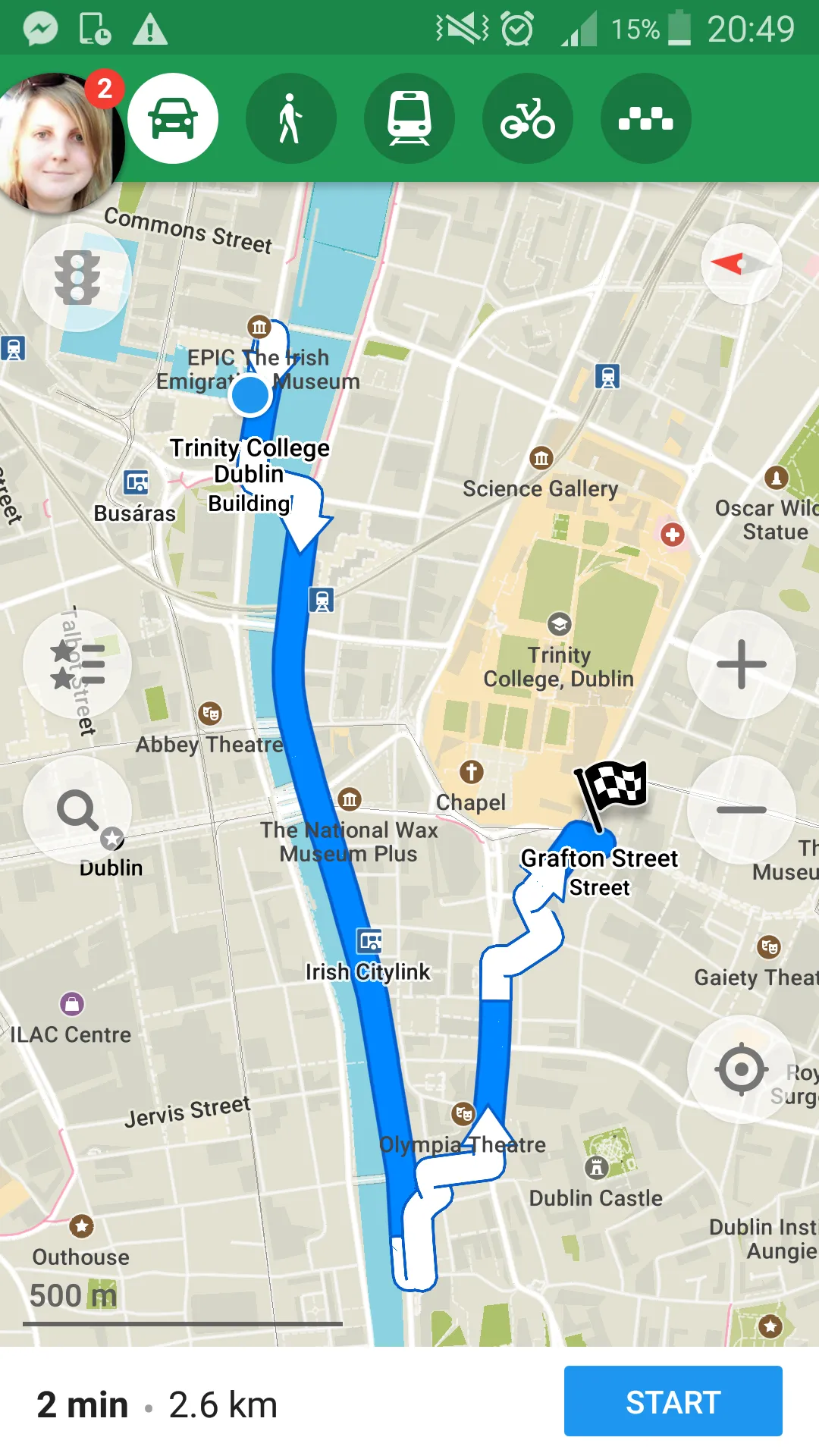 Above I brought only a few of the most popular places, that you can see in Dublin. As you can see this route is very short. You always can find more places, that you would like to see in Dublin and modify your route.
4. Local transport
The pivotal role in your trip destination is local transport. The well-developed bus network, trams, and trains enable you to make your trip efficiently. It is much easier to plan the trip when local transport is at a high level. Unless you would prefer sightseeing in the city on foot. This is possible when your remarkable spots remain quite close to each other. Personally, I used to visit many cities on foot, because I walk quite quickly and finally I can make even 20 km per day. Anyway, even when you decide to visit your destination city on foot using partially local transportation may streamline your trip.
How to find local transport in your destination area? Still, the best way is to type in Google the name of your destination city and add "transportation" or "transportation map", "local transport", etc (Pic. 6). Having the transportation map opened you can quickly evaluate when exactly you will need to move from one place to another.
Another way, far easier is using Google Maps by selecting the direction and choosing the "Bus" option (Pic. 7). Tripadvisor is also helpful, especially in places not well served by public transport. It can extend your procedure of preparing for the trip, although a quite good trick is to click Ctrl+F and type "bus", or "transport", etc. to streamline your search.
5. Final route plan
Your final route plan will consist:
Places of interest (found as a "Top 10…" in Google, either thing to see or places to eat, etc.)
The application equipment (virtual tour guides when possible, good navigation like Maps.me)
Local transport features or kind of transport, that you would prefer during your trip,
Total time of your trip, determined by flight or bus connection.
Places of stay, shops, leisure places, etc.
My sightseeing route in Dublin was as per below (Pic. 8). I found other interesting places to see, although I have not seen all of them. Anyway, when you find more interesting spots on your journey you can always make a choice being in your destination.
6. You can easily and quickly plan a weekend trip using a few basic tools like the Google search engine, virtual tour guides, and navigation maps on your mobile device. Everything depends on your budget, plan, and time. The most important are keywords like "Top 10… I realize, that I wrote about obvious things, thus my goal was to show the quickest way to prepare for a short weekend trip quite professionally within less than half an hour.
Mariusz Krukar
Links:
1. Top 16 must-sees in Dublin
2. My Maps Google
3. Maps.me
Read also:
Multimedia: