The next year is coming. So it's a good time for a celebration. Traditionally I would like to show you how I celebrated the last New Year. Maybe you will follow my ideas, at least when you are planning to be in London.
Before I went to London I got the idea to see the New Year celebration around the world. I started to seek some decent webcams with the live stream. One of the first countries where a New Year is celebrated is New Zealand. When I found a nice webcam in Auckland I spot only a grey plume above the downtown panorama. I was too late then (Pic.1)
Fortunately, I was on time to see a New Year celebration in Sydney. However, I can admit, that it was quite hard to chase a good streamline due to server overloading. Finally, I was successful this time. The fireworks spectacle in Sydney at Harbour Bridge is awesome! I recommend everyone look and admire this amazing view (Pic. 2 – 5).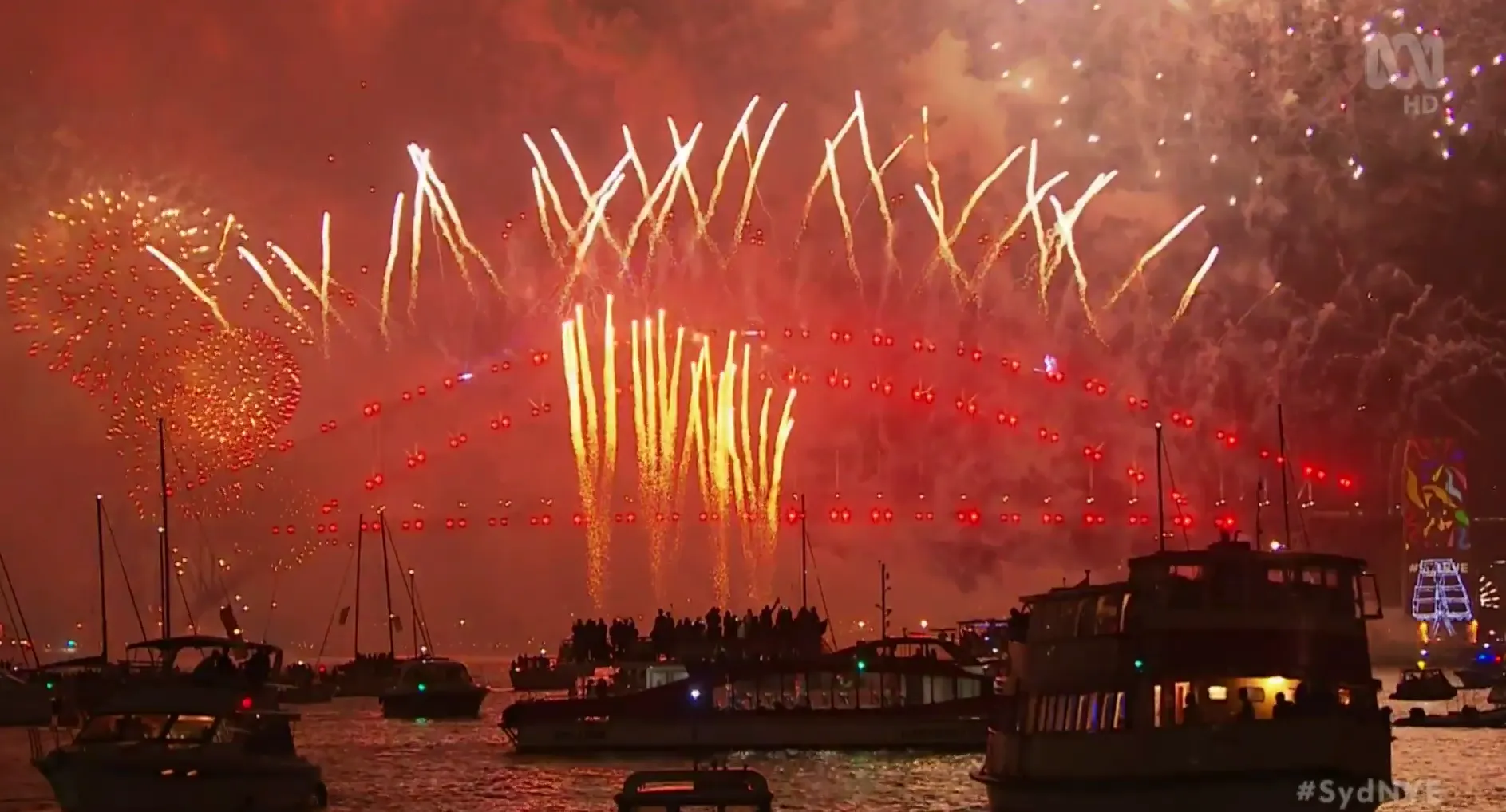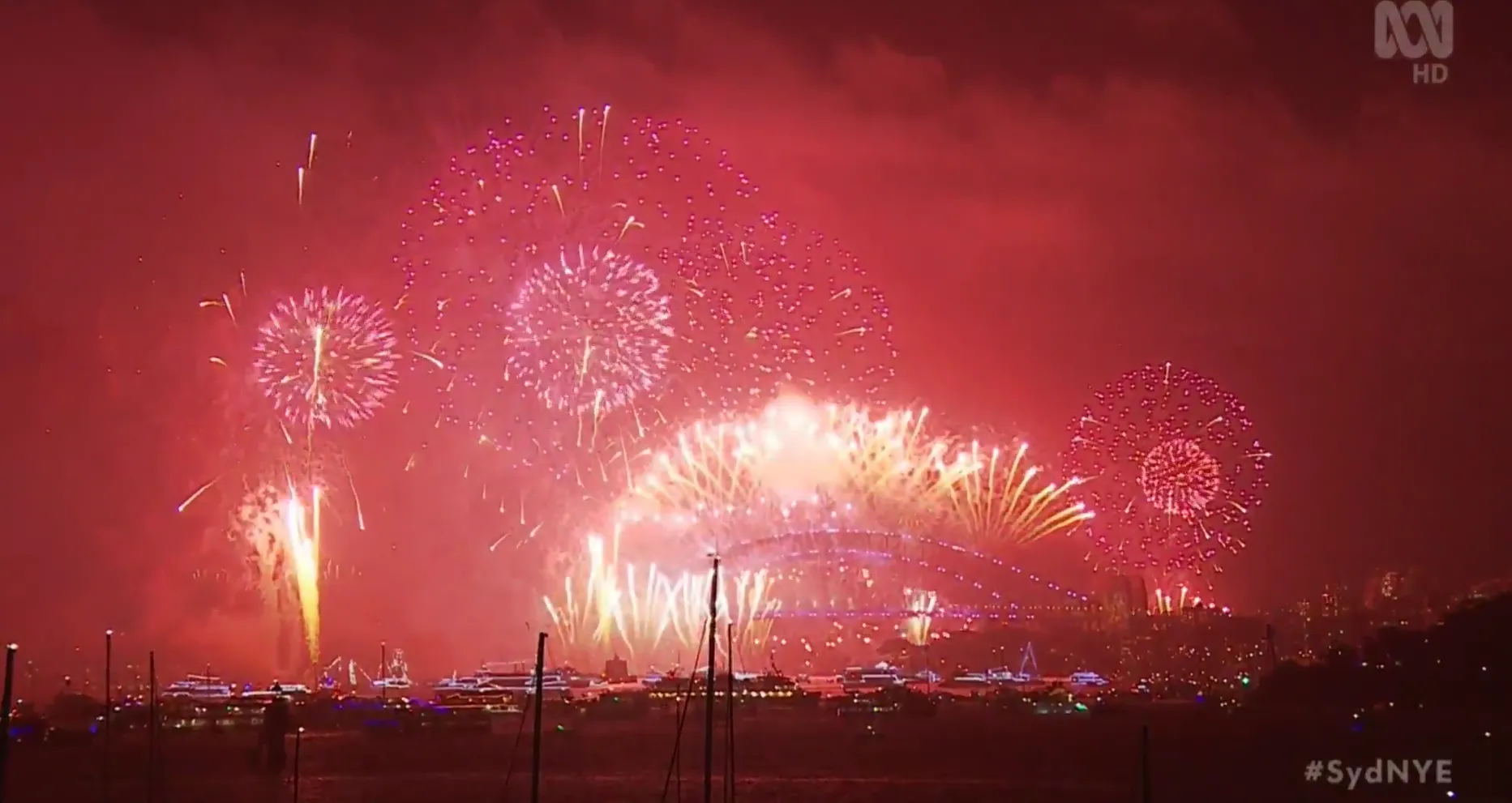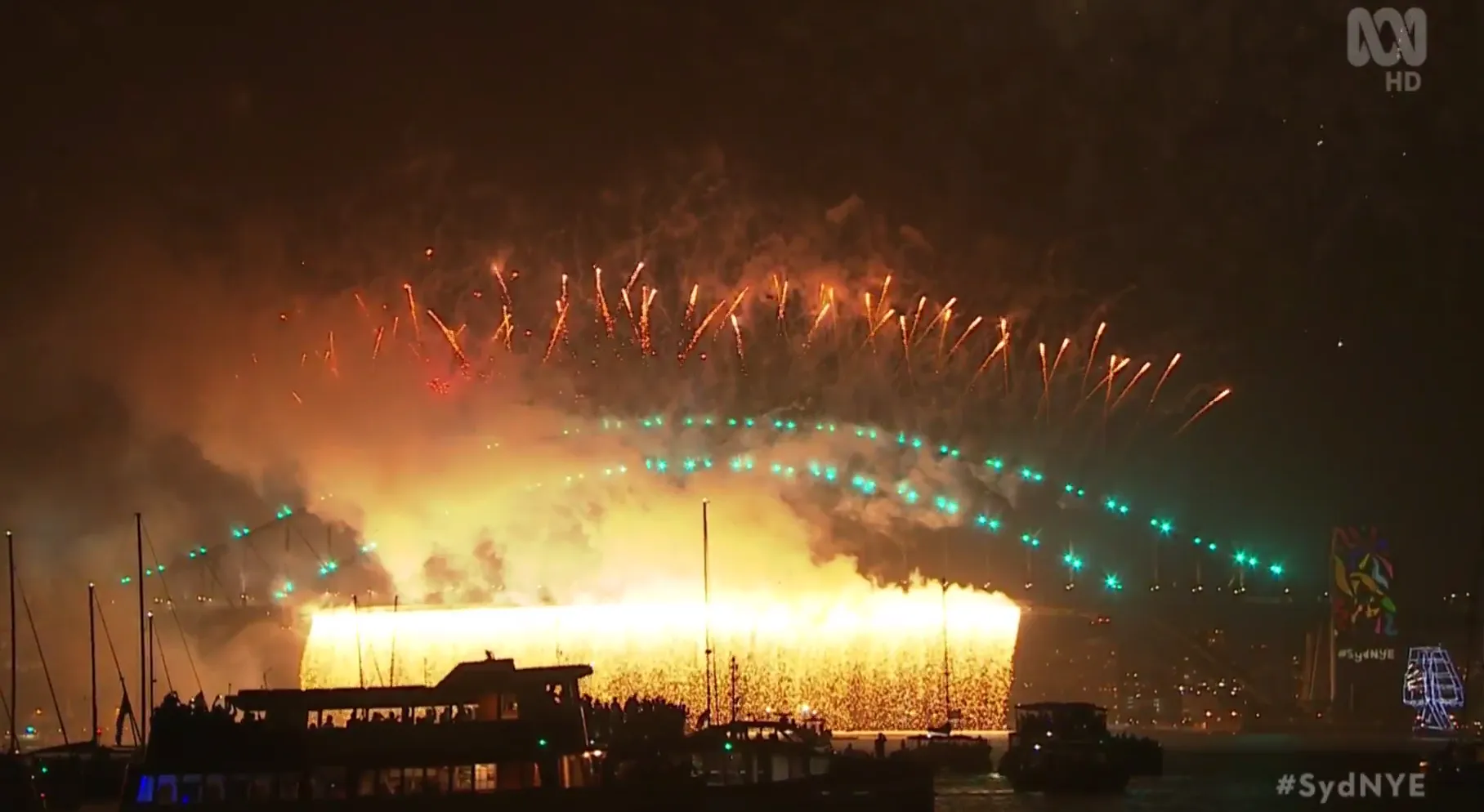 We set to London at about 6.30 pm from Cambridge. It was still a few hours to take a long walk from the King's Cross rail station to the nearest possible observation venue with a good view. Walking down the Greater London streets was also a good pleasure, watching a multitude of beautiful Christmas decorations (Pic. 6).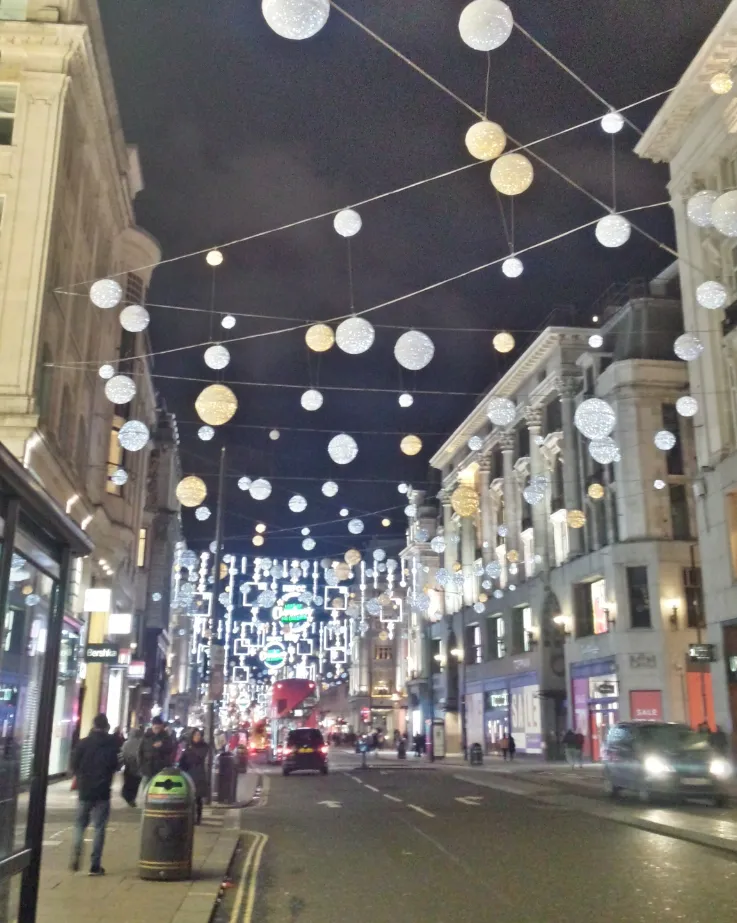 There were crowds of people heading to see a New Year celebration. Unfortunately, usually, the closest zone alongside the Thames River is closed for casual people, and if you would like to be close to the event you must pay an admission, which doesn't belong to the cheapest ones. Under this link, you can find all zone closures on New Year's Eve.
We were heading to Westminster, where I found possibly a good spot to see the London Eye quite clearly and closely. It was near the Lambeth Bridge (Pic. 7).
Unfortunately, a lot of people thought the same as we did and placed in the area between Millbank and Lambeth Bridge, at the narrow garden square. Every single concrete object, as well as the wall separating the garden straight from the river, was already occupied when we came. The number of people was awful. Enter the Lambeth Bridge, which offers a better view of the London Eye was literally mission impossible. Fortunately, I am quite tall, so I was able to see the New Year quite clearly. Regrettably, my wife, couldn't see this whole event, especially when the fireworks spectacle began and most of the watchers put their hands up with devices as high as possible in order to record the event. At this time I encountered some problems with getting a clear view of the fireworks.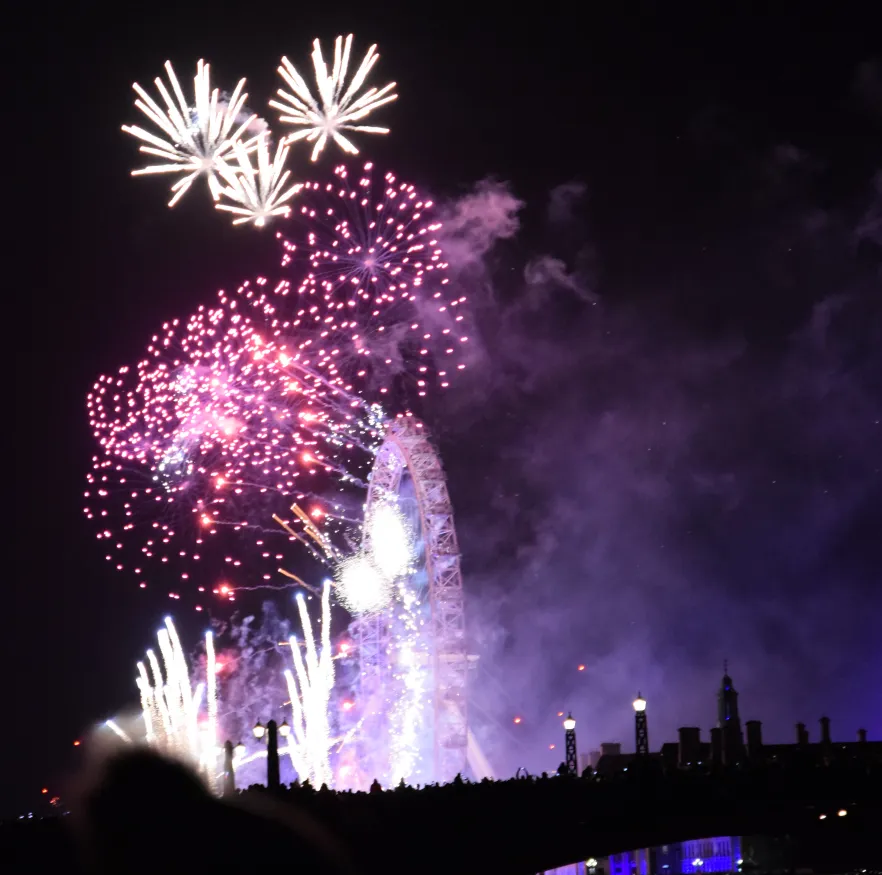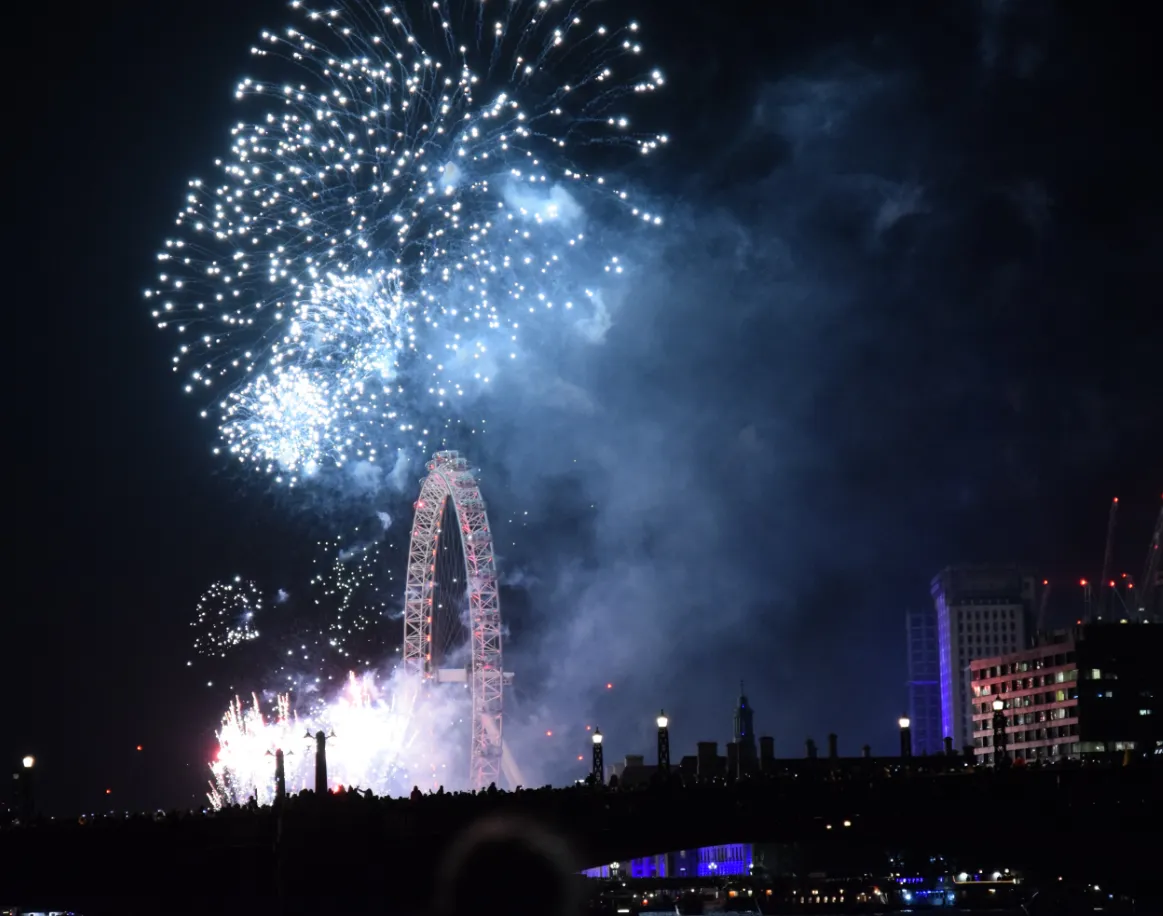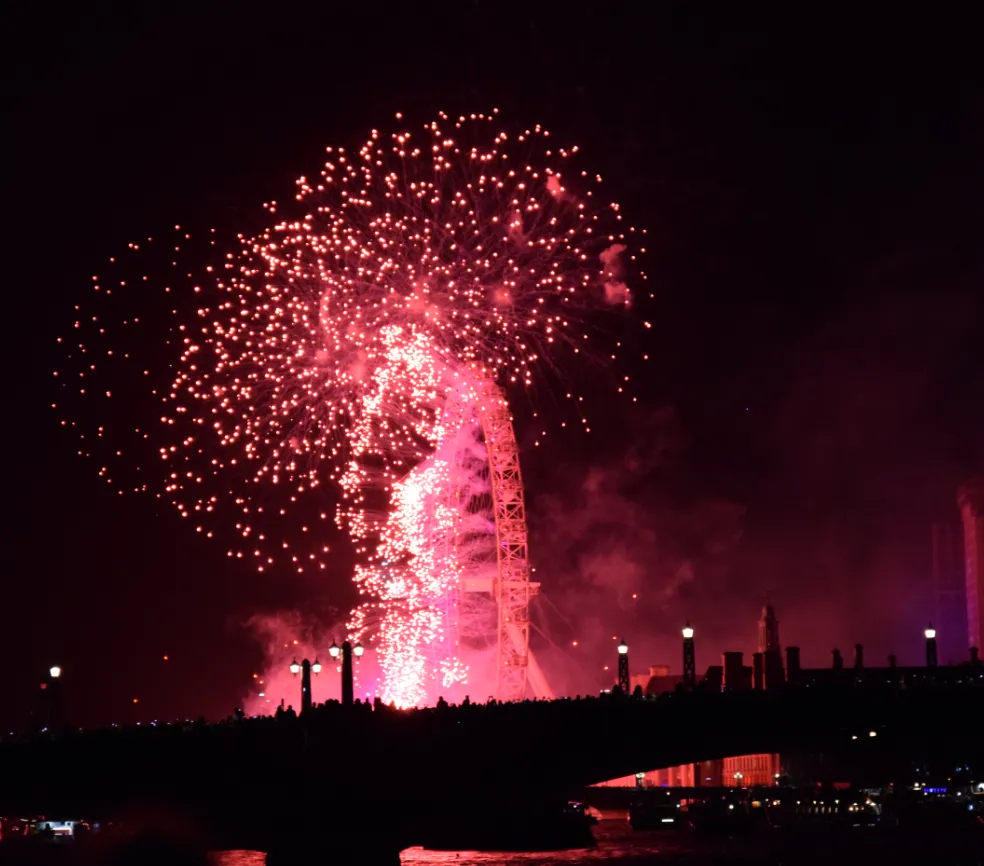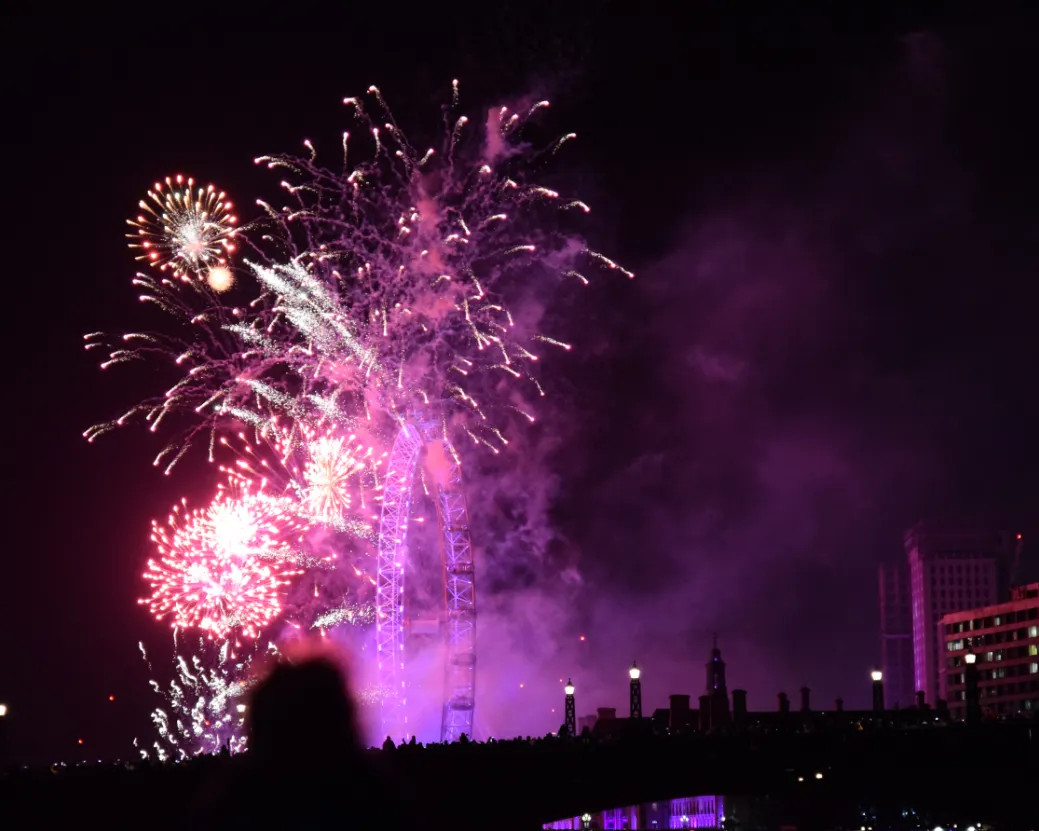 The place near the Lambeth Bridge appeared to be the best viewing site north bank, at least from the western direction. We were enjoying the event a lot. The celebration was far better visible than from Primrose Hill, from where we were watching the New Year celebration 3 years earlier.
It was definitely worth reaching this place rather than looking at the fireworks glow somewhere from the outskirts, especially because the biggest fireworks are usually at the London Eye.
Comparing the English New Year celebration i.e. to Polish, there are not many places, where you can see the big celebration such as in Greater London. Usually, people don't celebrate New Year's Day this way. When in Poland you can spot a multitude of single fireworks in each direction. In Britain, these fireworks are really confined to some city centers. A better time to see the fireworks in Britain is definitely a Bonfire Night, which has been described in this article.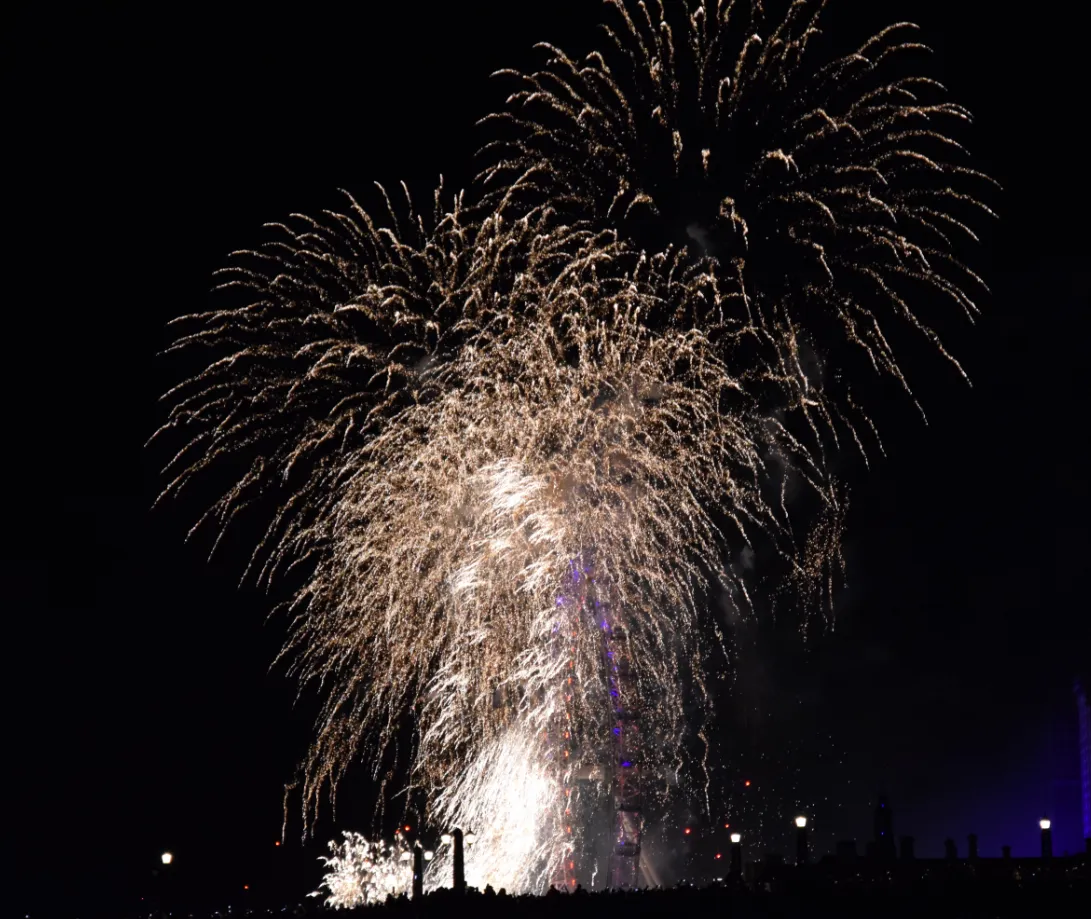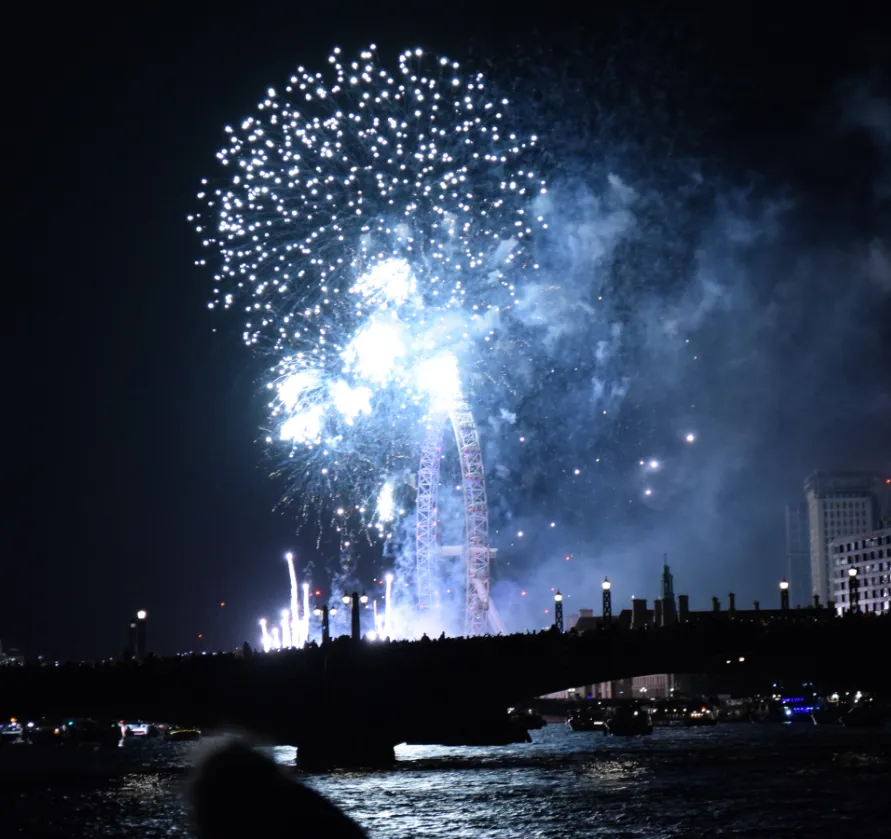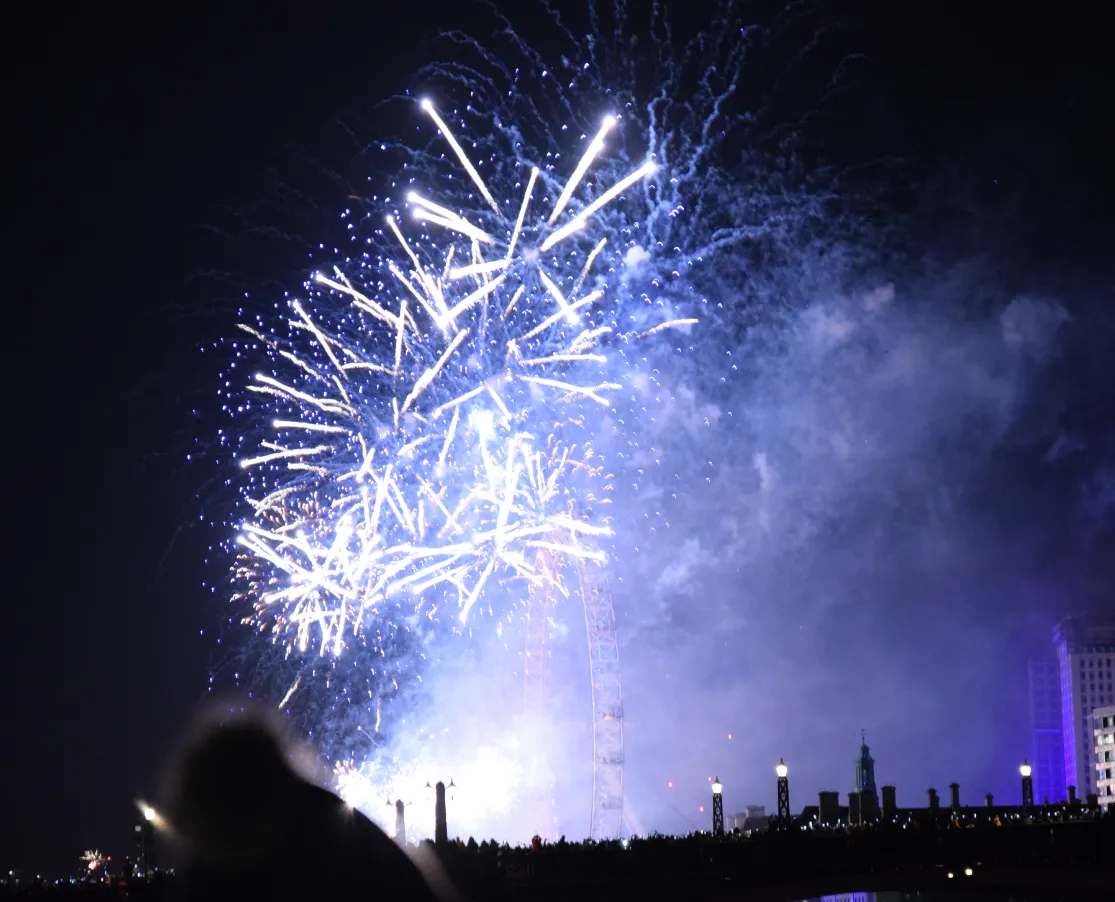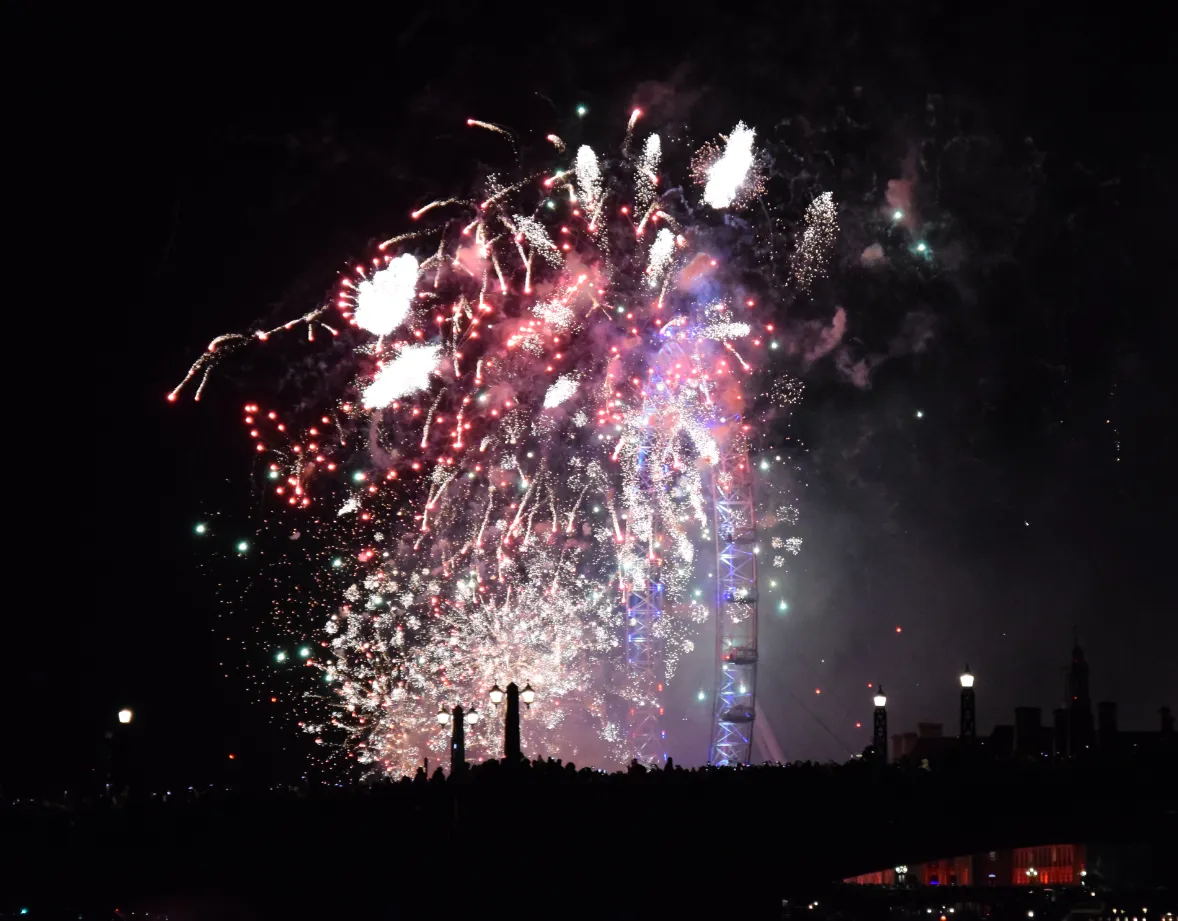 The whole spectacle lasted a bit more than half an hour. The best moments can see are in the footage below. After this people started to spread out towards the nearest tube station available. Because most of them were closed for the time of New Year's Eve night, we had to walk about 2 km to Euston station. Finally, we reached the King's Cross station around 1.30 a.m. and back home about 1h30m later.
When I woke up I checked The Shard webcam, where I could see a 2018 New Year celebration from the top (Pic. 19, 20).