The Lake District National Park is said to be the most beautiful national park in Britain, so we decided to hop there for a couple of days. Traditionally I met my fiancee in London where we were waiting for a night Megabus to Edinburgh, which departs daily at 22:30 from London Victoria Coach Station.
Emperor Hadrian's legacy
We approached Newcastle upon Tyne on Saturday 8th July at 4:50. After a short walk down the city center and breakfast, we went to the first train towards Carlisle at 6:30, which took us to Haltwhistle. After short walking and hitchhiking we reached Hadrian's Wall, which spreads on the south border of Northumberland National Park (Pic. 1,2).
Hadrian's Wall also called the Roman Wall was a defensive fortification in the Roman province of Britannia. It was built after 122 AD. Hadrian's Wall ran from the banks of the River Tyne near the North Sea to the Solway Firth on the Irish Sea. Total length was 80
roman miles (117,5km) (Pic. 3).
The Roman Wall had a stone base and a stone wall and contains a fort about every five Roman miles. It contains 80 small gated milecastle fortlets also (Pic. 2,3).
Hadrian's Wall was built in general on the range of hills situated on the south edge of Northumberland National Park. Hadrian took advantage of hill's assymetricity,
because north hillsides are very steep and hard to reach by enemies.
The main purpose of construction was "separation the Romans from the barbarians".
Everybody, who saw Hadrian's Wall, could see the Vallum too (Pic. 2,4).
The Vallum was a huge earthwork associated with Hadrian's Wall. The Vallum comprises a ditch 6m wide and 3m deep with a flat bottom, flanked by two mounds about 6m wide
and 2m high. On some parts of the distance, Vallum was cut through solid rock. This earthwork run close to the rear of the Wall where the topography is allowed.
The Vallum nave has been constructed sometime after the wall was completed. This earthwork was like an additional rampart alongside the wall. There would have been a crossing point like causeways or bridges to the south of each wall-fort.
Once you walk the Hadrian's Wall Path you can admire the beautiful landscape of southern Northumberland National Park (Pic. 9).
Northumberland National Park is the northernmost national park in England, which covers an area up to the Scottish border. The Craig Loch range with Hadrian's wall is the southernmost part of this national park. You can see also the north Pennines from
here.
Welcome to Cumbria
Cumbria, known as a former Cumberland from Roman Ages. This is a predominantly rural and mountainous area, containing the Lake District country and the northeastern part of Yorkshire Dales National Park. The Cumbrian mountains contain every peak in England over 3000 feet (910m) above sea level.
The capital of Cumbria is Carlisle. This is the largest settlement in this county with over 71k inhabitants. Actually, Carlisle is a town with wealthy history. It's not a problem to visit the city center, where is a castle, a cathedral, city walls, and citadel towers (Pic. 10,11).
The first Citadel building was a Tudor fortification replacing the medieval Englishgate. Some of the buildings like Carlisle railway stations are designed in the neo-Tudor style.
Towards Mountains
Our time in Cumbria wasn't so long. We approached there around 11:10 and our earliest direct bus to Keswick departs usually at 12:10 on Saturdays. There are not so many direct buses to Keswick from Carlisle. Alternatively, you have to go first to Penrith and then change to another bus. In general, the whole area is well served by Stagecoach buses.
Stagecoach Cumbria and North Lancashire offer a lot of discounted tickets. Once you are going for a longer time it's good to buy e.g. a week rider for 27GBP only (a single ticket from Carlisle to Keswick costs nearly 8GBP) and travel as much as you like! We decided to buy a day rider for 10GBP per person. One-day rider ticket allows you to make as many journeys as you like within Cumbria and North Lancashire Area (Lake District National Park + Carlisle, Penrith, Kendal, Workington, and Barrow-in-Furness). For someone who wants to visit the surrounding area is a very good deal.
The Stagecoach from Carlisle to Keswick, as usual, goes slow, it calls at many villages on route. It's good because you can see many places either the closest or the most remote. The most inspiring place, which we saw en- route to Keswick was Anthorn Radio Station, overlooking the Solway Firth near to Scottish border  (Pic. 12,13).
Rainy mountainland
Once we came to Keswick the weather was completely down. After 13:00 it started to rain and nothing indicated quick improvement. The only hope was in the satellite images, which
was showing that a cloudless sky is coming from Ireland. Anyway, the region was under a huge low-pressure area and every weather forecast warned about rain and wind. I personally predicted that after 16:00 weather will be better. It was nearly time to go to the mountain bothy, where we were planning to stay the next 2 nights.
We were visiting mainly the south lakes area with Windermere (Pic.14) and Ambleside (Pic. 15).
Very nice villages – I can say. Especially when you notice that largely every house is built with local slate (Pic. 16).
We were back in Keswick around 16:30, did shopping for our mountain adventure, and caught the last bus towards Honister Pass at 17:30. It wasn't raining already, even the sun was trying to look at us throughout obscene nimbostratus.
Two completely wet "idiots"
We approached the Honister Pass around 18:00. The weather was not so good, but it wasn't raining. The area was almost invisible because of the nimbostratus fog. On top of that was drizzling. The way to the Dubs Hut bothy wasn't so complicated. We thought, well hard-surfaced road led into Honister Slate Mine on the top of a mountain and some unsurfaced road led into the next valley, where Dubs Hut is situated (around 1,5km trekking) (Pic. 17) is not a big problem for us. Once we set, we will approach the bothy after tens of minutes. Unfortunately, the whole plan went down, when an awful downpour was coming (Pic. 18). We were exactly in the middle of a hilltop, where started to rain with small hail. On top of that wind became more strong, and it made almost horizontal rain. We had everything wet suddenly (Pic. 19).
We started to be very angry because of the weather. My fiance suspected, that someone may be inside the bothy. I denied it, because, in my opinion, nobody wanted to go to some
stupid bothy on the top of the valley at that time. When my fiance saw two poor wet sheep next to the road she said: "O tutaj dwa barany" which means "O see two sheep here", and next she added "A tu kolejne dwa barany" when indicated for us, which means "And another two idiots here". In Polish baran means a sheep and an idiot also 🙂 She wanted to say that this part of the trip completely doesn't make sense.
The situation was getting worse because my phone and camera started getting wet and I couldn't open and read my pictures of bothy of the area captured in the Google Earth software. On the slate mine area, we found some abandoned sidecar, which was our sanctuary for a while (Pic. 20).
After checking the route again we set towards bothy and approach there after the next 20 minutes in rain, wind, and fog.
Unfortunately, the Dubs Hut was fully occupied, and all the more so everything inside was wet. Finally, we decided to retreat and go to sleep in the nearest YHA hostel on Honister Pass.
We were surprised when the YHA service said to us that they don't have places to sleep. It was weird for us because when you come to any mountain hut you have the right to sleep! This right doesn't work in the UK unfortunately. Guy didn't care about our situation and he almost left us outside. Hopefully, after long consultation, he phoned to neighboring YHA based in Buttermere. Eventually, I slept on Honister Pass YHA and my fiance in Buttermere 🙂
The most outstanding area…
It's time to change this story and provide some pleasant while during this trip, so…
Another 3 days of our staying in the Lake District weren't bad. Our clothes were dry after 2 days, however, it stopped raining on Sunday morning, so we could take a look around the mountains.
Trip Advisor says, that the best place in the Lake District National Park is Derwent Water – a lake that spreads south from Keswick. The view is really nice from there (Pic.36), but I have my best places in this area:
1. Warnscale Head bothy – The best-located hut, which I have seen. You can enjoy the awe-inspiring view of Buttermere Valley. This bothy is situated on the bottom of a gully. The hut is much better access than Cwm LLuest Bach coz you have around the hard-surfaced road and a clear path from the nearest bus stop on Honister Pass and just 2km by the path from the public road at Gatesgarth. Warnscale Head is quite small, but amazing (Pic. 23,24,25). It was built in the 1750s for the slate mine. The bothy is being renovated since 1985. We wish we could sleep here when the weather could be better because the hut is just a stone's throw from Dubs Hut bothy. This is one of the best homes for travelers wishing to undertake a day trip into the English highest mountain – Scaffel Peak 976m.
2. Honister Slate Mine – this is the last working slate mine in England. Quarrying has been taking place in the area since 1728. Closed in 1981 and reopen in 1997 by a local
businessman. Today apart from the mining, it is also a popular tourist attraction in the Lake District National Park (Pic. 27,28,29,30). Honister area with Buttermere is
also a copper mining area. Buttermore copper mines were working for nearly 4 centuries from the 1560s until the 1810s.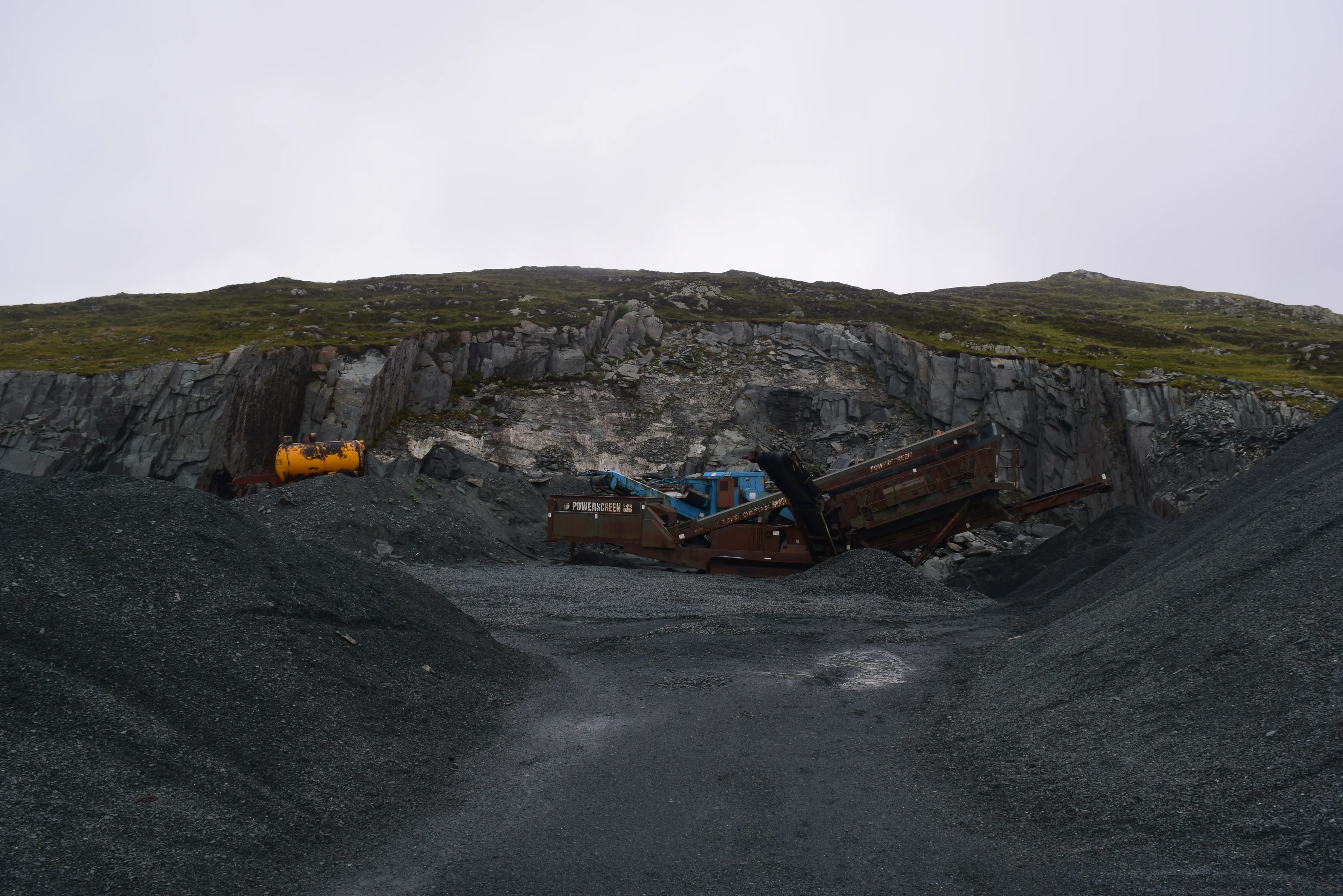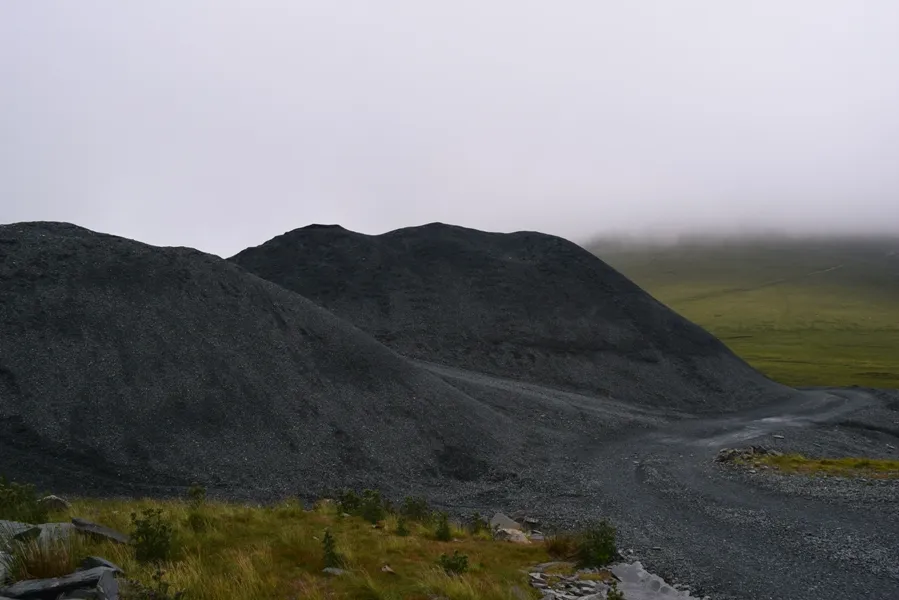 3. Scale Force waterfall – it is the highest waterfall in Lakeland (54m) (Pic. 31). "It plunges into a gorge whose luxuriant birch and rowan indicate the natural cover of this hill ground in places not nibbled by sheep"(Pic. 32). During the rainy weather, the noise and spate are very impressive. Water-washed rocks around are clean and slippery, so you must pay attention.
4. Ambleside – is a small, charming town with unique buildings based on the slate. The most interesting of them is the Bridge House, which was built more than 300 years
ago as a summer house and apple store. (Pic. 33,34).
5. Grisedale Tarn – is a tarn, legendary resting place of the crown of the kingdom of Cumbria in X w. Grisedale Tarn has a depth of around 35m. (Pic. 35) "It holds brown trout, perch, and eels".This a good vantage point also. You can see the Irish
Sea, Scaffel Peak, and Cross Fell – the highest peak in Pennines Mountains.
I would like to show the other photos below. Lakeland is amazing!
Long evening in Newcastle-Upon-Tyne
Commonly known as simply Newcastle is the most populous city in the northeast of England. Newcastle Upon Tyne has a wealth of history since the Roman ages. During the
Hadrian's Empire this settlement was called Pons Aelius and contained a fort and bridge across the River Tyne. The next time, Newcastle upon Tyne became part of powerful
Anglo-Saxon kingdom of Northumbria, and became known throughout this period as a Monkchester.
Throughout the Middle Ages, Newcastle was England's northern fortress. A 25-foot (7.6m) high stone wall was built around the town in the 13th century. Today you can see a lot of landmarks from that period e.g. Newcastle Castle, known as the oldest structure in the city, dating back to at least the 11th century. The biggest development of the city was in the late 1800s when Newcastle became a powerhouse of the industrial revolution. This revolution resulted in the urbanization of the city. Besides Newcastle was one of the first
cities in the world to be lit up by electric lightning.
Apart from the Castle and city walls, the most interesting area is Grainger Town, which is the historic heart of Newcastle. It was established on classical streets and buildings. These buildings are predominantly four stories high, with vertical dormers, domes, turrets, and spikes (Pic. 41).
In the middle of Grainger, Town has situated the Grainger Market with the vast Grey's Monument (Pic. 42). This monument commemorates Prime Minister Earl Grey, who
had many political achievements. Hence he has come to be associated with Earl Grey tea.
Newcastle is connected by several bridges. The most renowned are the Tyne Bridge and the Gateshead Millenium Bridge (Pic.43).
Once you go under the bridges watch out for the seagulls! It's impressive to look up at these beautiful white birds but if you look at the bridge construction on the nearest floor you notice that everything is covered in seagull poo which stinks to high heaven.
(Pic.44). If you're very unlucky they may divebomb you and give you a bit to take home…:(
We left Newcastle upon Tyne at 1:30am on Wednesday the 13th of July and approached London Victoria Coach Station at 7:45am.
Mariusz Krukar
Links:
Warscale Head Bothy on the MBA website
Dubs Hut bothy on the MBA website
Stagecoach Cumbria & North Lancashire
References:
2003, Lorton & Derwent Fells Local History Society, The Journal, No51, p.13-19.
Blair D., 2003, Exploring Lakeland Tams, Lakeland Manor Press.
Breeze D.J., Dobson B., 2000, Hadrian's Wall (4 ed.), Penguin Books, London.
Gilham J., Turnbull R., 2011, The Lake District – guide to 30 of the best walking routes, Collins, Glasgow.
Graham D., 2015, Origins of (the) New Castle upon Tyne, Newcastle University, Newcastle-upon-Tyne.
Mackenzie E., 1827, Historical account of Newcastle-upon-Tyne, british-history.ac.uk.
Mollison D., 1985, Oak Pegs and parging, (in) Mountain Bothies Association, Journal 75, p.22-23.